Buy Now
Text Me
Check Availability
How it works
Price £175.00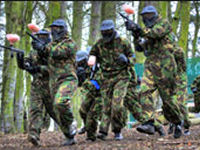 #36726,
Half Day Paintballing for 8 (100 Paintballs)
An event to remember this is a MUST. After your initial safety briefing the fun will really begin !!(100 Paintballs each). Valid for 8 participants.. This experience is for 8 participants, lasting approx 4 hours. Valid for 12 months from date of purchase.
What's included
The adrenaline rush is phenomenal, the tension unbearable. As you crawl through the undergrowth, you hear the snap of a twig, you turn your head to find that you are being ambushed by your enemies. One minute you are stalking, the next you are being stalked.
Paintballing is the ultimate game of excitement between two teams of players where skill, strategy and teamwork combine to make your day really memorable.
You must defend towers, bases and bunkers or plan a major offensive through streams, gullies and trenches in our beautiful mature woodland site.

There are 8 different possible game zones. Scenarios include: -
Little wood - Deep Deep in the Vietnamese Jungle this is warfare at its best, a few forgotten soldiers are still fighting for their lives deep within the jungle, unaware the war is over! In this dense woodland arena, you'll need to navigate through 2 acres of jungle, stinging nettles and deep water to the enemies' base. Retrieve their flag and bring it back to your compound.

Burial Mound- built on the site of an ancient Roman burial mound this is a sacred site for many, but its recent new owner has turned it into a dumping ground for cars and radioactive waste, but something has gone terribly wrong. Things started going bump in the night just over a month ago!
This square area is diagonally crossed by an old sunken roman road and burial ground. It is littered with the cars of past employees and full of badgers warrens for further good measure! You will be defending your own flag from your enemies while fighting to capture your opponents flag and return it to your base. Along with the abandoned cars there is dense scrubland, mixed with wide open spaces. You will need eyes in the back of your head for this one!
Will you conquer your fear or end up the prey of the un-dead!

This Half Day will include 5-6 games and 500 paintballs.
Special Conditions
Minimum age 12.
Valid Weekends ONLY.
The safe area and Paintballing game zones have been designed to cater for all levels of Paintballer, from beginner to the most experienced.
Morning session starts at 9am. Afternoon session starts at midday.
This is an outdoor activity. Please dress for the weather. For wet and cold days you will need waterproofs and warm layers of clothing, finger gloves if necessary.
Strong footwear or walking boots are essential, open toe shoes, sandals or flip flops are NOT suitable.
Voucher
Each voucher entitles 8 people to participate in this experience. The voucher is transferable, which means that anyone can use it. The voucher remains valid for bookings for 12 months from date of purchase. Please contact the operator using the details which will be printed on your voucher to arrange a date for your event.

Booking your event
We recommend that you purchase your voucher and make a booking for your event at least one month prior to your chosen date. This is particularly important for weekend events.

A Typical Paintballing Experience
Players should wear old, comfortable clothing and may also want to bring a change of clothes for the conclusion of the game. We strongly recommend boots with ankle support and deep tread/rubber soles – it can be muddy, wet and slippery in the woodlands. Some players may choose to wear wellies if it is muddy during the winter months but it is up to each individual to decide if they want to choose a waterproof option rather than the safety of ankle support. Paintball gloves may be available to buy at the centre, or you can bring your own. You may also want to bring some money for purchasing additional paintballs (venues generally accept cash and credit/debit cards – please note fees may apply to the use of credit and debit cards).

Validity / Cancellation
The voucher will remain valid as long as an attempt to book the experience has been made within the 12 month period. You must contact the operator using the details printed on your voucher, to arrange a date for your event prior to the end of the 12 month period expiring.
This Rating (4
*

/ 5

*

)

'Website and purchase process' by anonymous on 22/08/13.

"Did what I wanted"