Buy Now
Text Me
Check Availability
How it works
Price £100.00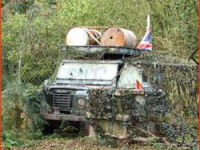 #36353,
Young Guns Paintball Session for 4
A sensational package and a perfect introduction for kids into the exhilarating world of Paintball! After Registration and safety briefing it's time for ACTION. Includes 300 Paintballs. Valid for 4 participants.. This experience is for 4 participants, lasting approx 210 minutes. Valid for 12 months from date of purchase.
What's included
This will prove unforgettably brilliant for the kids! You will be greeted by our friendly staff and after check in/registration you will be kitted up with all the gear.
Site has 7 purposely built paintball playing areas, plus a large amount of un-chartered woodland to explore.

The Castle:-A massive steel and wood castle with 2 20' turrets scalable by spiral staircases. It's surrounded by a field containing barrels and tyre barricades. Team 1 attacks the castle. Team 2 defends it. You need serious skill to attack and capture this stronghold.

Wild West: Our very own O.K. Corral! Choice of Scenarios - Break the Bank or Rescue Mission. Sounds simple? Yes but just wait till you meet the Sherrif and his band of merry marshals.

Trenches:Fight your way through the tight trenches and blind corners deep in enemy territory. Objectives include capturing the flag and getting as many of your team and the flag to your opponents base. Line of sight? Forget it!

Woodland Tyres - Open and fast, with hundreds of tyres tactically placed into barricades. This game is fast, furious and with people lurking round every corner. Choice of Scenarios - Capture the Flag or Annihilation.

The Bridge:In the heart of the forest lies a bridge ...a BIG one! Your team needs to cross it to escape. Everything looks quiet; you take that first step,only another 60ft to go. Wait! Was that something moving in those bushes....?

Command Post: Deep in the woodland you take your last stand against an unbeatable foe. This siege style game will test your organization, planning, teamwork and endurance. Hold the enemy back for a full 15mins and you just might escape alive.

Tournament Paintball: This is taking the US, Europe and the rest of the World by storm. Usually played with 5, 7 or 10 a side. Games usually only last about 3-4 minutes but the amount of paint thats fired easily reaches into the 10's of thousands per game. After playing his you will be hungry for more.
Special Conditions
Minimum age 12.
A half day session is 9.30am - 1.00pm or 12.30pm - 4.00/ 4.30pm.
You will play 5-6 games in half day session.
All players are required to complete a registration form before they begin play.Players under 18 years must have their form signed by an adult.
Adult players can complete registration forms on arrival at the paintball centre, but we suggest you can complete them in advance to speed up your check in time.
Players should wear old, comfortable clothing and may also want to bring a change of clothes. The most suitable footwear would be a light boot, but old trainers are most commonly worn.
The games go ahead regardless, in all weather conditions. All the game zones are outdoors, but there are sheltered areas in the base camp where you can go between games.
All payments are non-refundable and non-transferable.
Voucher
Each voucher entitles 4 people to participate in this experience. The voucher is transferable, which means that anyone can use it. The voucher remains valid for bookings for 12 months from date of purchase. Please contact the operator using the details which will be printed on your voucher to arrange a date for your event.

Booking your event
We recommend that you purchase your voucher and make a booking for your event at least one month prior to your chosen date. This is particularly important for weekend events.

A Typical Paintballing Experience
Players should wear old, comfortable clothing and may also want to bring a change of clothes for the conclusion of the game. We strongly recommend boots with ankle support and deep tread/rubber soles – it can be muddy, wet and slippery in the woodlands. Some players may choose to wear wellies if it is muddy during the winter months but it is up to each individual to decide if they want to choose a waterproof option rather than the safety of ankle support. Paintball gloves may be available to buy at the centre, or you can bring your own. You may also want to bring some money for purchasing additional paintballs (venues generally accept cash and credit/debit cards – please note fees may apply to the use of credit and debit cards).

Validity / Cancellation
The voucher will remain valid as long as an attempt to book the experience has been made within the 12 month period. You must contact the operator using the details printed on your voucher, to arrange a date for your event prior to the end of the 12 month period expiring.
This Rating (5
*

/ 5

*

)

'Website and purchase process' by anonymous on 23/05/14.

"Website very clear and easy to use."