Buy Now
Text Me
Check Availability
How it works
Price £485.00
Why not call us and haggle?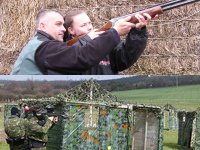 #35680,
Paintball and Clays for 4 (400 Paintballs)
Includes 400 paintballs;refreshments and equipment hire. Site has several different courses including speedball and trenches.Clay shoot is a sporting layout. Suitable for beginners or more experienced players. Valid for 4 participants.. This experience is for 4 participants, lasting approx 4 hours. Valid for 12 months from date of purchase.
What's included
Paintball has got to be one of the greatest adrenaline sports. Fast, furious and fun, it's an easily addictive game of teamwork and strategy.
The object of the game is to eliminate the opposing team using the special paintball marker gun and to capture their flag or base.
Your paintballing session includes 400 paintballs and refreshments and equipment hire.
A variety of action packed games are staged throughout the year.
Some games are easy & other are hard, games are designed to suite all player, regardless of experience.
Our very experienced team of marshals (some being semi-professional players) will be there to ensure that everything runs smoothly and the games are played fairly.
Extra Paintball can be Purchased on the day.
We have several different courses including speedball, trenches, supair, villiage and much more.

Then Clay Shooting...
Clay pigeon shooting is a sport which is highly enjoyable for first timers and beginners alike.
On site, no previous experience is necessary to begin shooting.
We offer a range of activities for first-timers, beginners and youngsters which help build confidence and develop skills.
The clay shooting is set as a sporting layout and run as a mini competition between the group.
We have a variety of stands including incoming birds, flushed birds, crossing birds and much more.
Special Conditions
Minimum age 10.
Half Day starts at 10.00 am or 1pm.
Valid weekends throughout the year.
You will be joined to a larger group for the games.
Voucher
Each voucher entitles 4 people to participate in this experience. The voucher is transferable, which means that anyone can use it. The voucher remains valid for bookings for 12 months from date of purchase. Please contact the operator using the details which will be printed on your voucher to arrange a date for your event.

Booking your event
We recommend that you purchase your voucher and make a booking for your event at least one month prior to your chosen date. This is particularly important for weekend events.

A Typical Paintballing Experience
Players should wear old, comfortable clothing and may also want to bring a change of clothes for the conclusion of the game. We strongly recommend boots with ankle support and deep tread/rubber soles – it can be muddy, wet and slippery in the woodlands. Some players may choose to wear wellies if it is muddy during the winter months but it is up to each individual to decide if they want to choose a waterproof option rather than the safety of ankle support. Paintball gloves may be available to buy at the centre, or you can bring your own. You may also want to bring some money for purchasing additional paintballs (venues generally accept cash and credit/debit cards – please note fees may apply to the use of credit and debit cards).

Validity / Cancellation
The voucher will remain valid as long as an attempt to book the experience has been made within the 12 month period. You must contact the operator using the details printed on your voucher, to arrange a date for your event prior to the end of the 12 month period expiring.
This Rating (5
*

/ 5

*

)

'Website and purchase process' by anonymous on 14/05/13.

"very efficient, would recommend"