Buy Now
Text Me
Check Availability
How it works
Price £155.00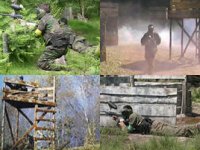 #35596,
Paintballing Day inc Lunch and 500 paintballs (4)
After Safety briefing and gun demonstration you will be faced with a variety of woodland and terrain;tactical obstacles to overcome and challenging goals to achieve.You will need ALL your tactical skills.Includes lunch; hot and cold drinks.. This experience is for 4 participants, lasting approx 1 day. Valid for 12 months from date of purchase.
What's included
Day begins at Base Camp with Safety briefing and gun demonstrations.
Zones include:-
* 'Amazon Assault' -nearly 1.5 acres of very dense woodland located on a hill.
*'Church Strike' - The church has been occupied by the enemy. With main tower 30 feet high it provides an excellent opportunity to place snipers to take out any advancing troops.
* Jungle Field - This zone is the only site to house just natural barricades offering slightly less protection but much greater camouflage cover..
* King Arthur's Castle - As Arthurs knights, you will play a role in the defence of Camelot.
* Urban Assault -With no natural vegetation on the ground the only cover available is within the trees which are 10 feet high and give this zone its characteristic orchard appearance.
* Bio-Hazard - situated in the remnants of an old fuel dump. The barrels which used to house all the fuel to supply the enemy are now the only form of cover.
* Village Siege -A reconnaissance helicopter has been shot down. Onboard was top secret information - this is an urgent mission which must be completed quickly and efficiently before the enemy recover this material.
* Towers Field - (2 acres). Contains a number of towers and a wide array of different terrain including areas of thick vegetation and marshland while other areas are completely open.
* Lost Island - The Enemy has occupied an island -You need to raise your flag over the enemy position to claim victory!
Scenarios include
- Total Elimination : Completely wipe out the enemy team
- Generals : eliminate the leader of the opposing team
- Sword in the Stone : Charge out from the Castle to remove the well-defended sword
- Zombies : Paintball games with unending respawns
- Sound the Alarm : Sneak around the rear of the enemy base and activate the alarm system

Special Conditions
Min age 10.
Valid weekends only throughout the year.
Unlike other paintball companies, we do not allow people with their own equipment to compete. We feel this makes the day fair and enjoyable for everyone.
Spectators are welcome - we have a viewing gallery which allows anyone to view the games on the Church Strike. For the really brave, we will give any spectator the opportunity to follow one of the Marshals into the combat zones so you can witness the battle first hand!
Includes -Semi-Automatic Inferno Paintball markers including 200 shot ammunition holder One piece Camouflage Suits
'V' Force goggles - Total ear and face protection with anti mist lenses
Unlimited Gas.
Voucher
Each voucher entitles 4 people to participate in this experience. The voucher is transferable, which means that anyone can use it. The voucher remains valid for bookings for 12 months from date of purchase. Please contact the operator using the details which will be printed on your voucher to arrange a date for your event.

Booking your event
We recommend that you purchase your voucher and make a booking for your event at least one month prior to your chosen date. This is particularly important for weekend events.

A Typical Paintballing Experience
Players should wear old, comfortable clothing and may also want to bring a change of clothes for the conclusion of the game. We strongly recommend boots with ankle support and deep tread/rubber soles – it can be muddy, wet and slippery in the woodlands. Some players may choose to wear wellies if it is muddy during the winter months but it is up to each individual to decide if they want to choose a waterproof option rather than the safety of ankle support. Paintball gloves may be available to buy at the centre, or you can bring your own. You may also want to bring some money for purchasing additional paintballs (venues generally accept cash and credit/debit cards – please note fees may apply to the use of credit and debit cards).

Validity / Cancellation
The voucher will remain valid as long as an attempt to book the experience has been made within the 12 month period. You must contact the operator using the details printed on your voucher, to arrange a date for your event prior to the end of the 12 month period expiring.
This Rating (5
*

/ 5

*

)

'Website and purchase process' by anonymous on 05/08/12.

"What an excellent day and excellent service! Went for a flight in a Tiger Moth out of Goodwood, would thoroughly reccomend it to anyone."