Buy Now
Text Me
Check Availability
How it works
Price £398.75
Why not call us and haggle?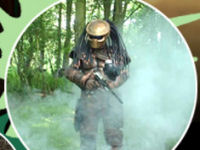 #35539,
Stag/Hen Paintballing for 10 (500 paintballs)
Full day Paintballing - includes 500 paintballs per person and lunch. Valid for 10 participants. Teamwork and communication are required to beat the opposition, but do you have what it takes?. This experience is for 10 participants, lasting approx 1 day. Valid for 12 months from date of purchase.
What's included
Set within 120 acres of purpose build scenarios, this action packed team game will test your skill, teamwork and cunning.
Paintballs flying at you at 200 mph whilst you duck through the trees and hide behind barricades in your camouflage outfit.
As you plan out your attack for capturing the flag, wondering whether you're going to be covered in yellow or green paint?
Scenarios include: - Village of the Damned, Fort Brave, Alien Invasion, Pyramid of Doom and The Hostage.
Two teams pit their wits against each other, planning their own strategies and tactics.
The game is an exhilarating, adrenaline filled day that is guaranteed to be a talking point for weeks afterwards.
The guns used are semi automatic carbines, which are capable of a single shot or rapid fire. The guns can 'take out' targets at distances up to 200 feet, so keep your head down!
Each game is supervised by trained marshals who also help with strategy and make sure no rules are bent. Each game lasts a maximum of 25 minutes, so there is plenty of time between to recover and plan tactics.
Package includes:
*Full face & head protection
*Camouflage overalls
*Battle pack webbing for carrying ammo
*High powered semi-automatic marker
*Air system and free air all day
*Fully trained marshals
*Tea, Coffee and lunch.

There is a vending machine on site and also a Paintball store.
Special Conditions
Minimum age 12.
Available 7 days a week.
Please note: Footwear is NOT included. Please wear sturdy footwear and old clothes.
Voucher
Each voucher entitles 10 people to participate in this experience. The voucher is transferable, which means that anyone can use it. The voucher remains valid for bookings for 12 months from date of purchase. Please contact the operator using the details which will be printed on your voucher to arrange a date for your event.

Booking your event
We recommend that you purchase your voucher and make a booking for your event at least one month prior to your chosen date. This is particularly important for weekend events.

A Typical Paintballing Experience
Players should wear old, comfortable clothing and may also want to bring a change of clothes for the conclusion of the game. We strongly recommend boots with ankle support and deep tread/rubber soles – it can be muddy, wet and slippery in the woodlands. Some players may choose to wear wellies if it is muddy during the winter months but it is up to each individual to decide if they want to choose a waterproof option rather than the safety of ankle support. Paintball gloves may be available to buy at the centre, or you can bring your own. You may also want to bring some money for purchasing additional paintballs (venues generally accept cash and credit/debit cards – please note fees may apply to the use of credit and debit cards).

Validity / Cancellation
The voucher will remain valid as long as an attempt to book the experience has been made within the 12 month period. You must contact the operator using the details printed on your voucher, to arrange a date for your event prior to the end of the 12 month period expiring.
This Rating (5
*

/ 5

*

)

'Website and purchase process' by anonymous on 10/02/14.

"Bought for my dads birthday, very easy to purchase, would definately recommend. "