Buy Now
Text Me
Check Availability
How it works
Price £142.50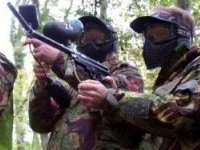 #34807,
Stag/Hen Paintballing Event
After a safety briefing you will be issued with your kit amfd then its off to our woodland site for an extensive variety of games. Valid for 10 stags/hens or friends.. This experience is for 10 participants, lasting approx 3 hours. Valid for 12 months from date of purchase.
What's included
Session starts at 9am or 2pm.
The Paintball site covers a large area of woodland with a deep ravine and stream running through it.
The site incorporates bridges, a bunker, a tower and a crashed aeroplane, from which an extensive variety of games are played.
All games are professionally managed by experienced Marshals.
Floodlit night games and Sunday games are available upon request. Includes 50 paintballs.
Includes insurance. For the experts out there....
We use RPS Paintballs: We use the Euro-flite series in the summer and autumn, and Polar Ice series in the winter and spring. Our boxes contain 2,000 Paintballs, all filled with non-staining paint.
We use Semi-Automatic Field Inferno markers with 10 barrels. These are run on liquid CO2. You can use as much liquid CO2 as you like during the course of your games.
Special Conditions
Minumum age 16.
Further paintballs available to purchase on the day as required.
Safety Equipment - all Personal Protective Equipment required for playing Paintball safely will be provided.
We strongly recommend wearing gloves during paintball, as getting hit on the hand hurts! Armoured fingerless gloves, which are specifically designed for paintball games, are on sale at the Paintball Office.
or our female guests, we supply armoured chest protectors to lessen the blow of getting shot!
Voucher
Each voucher entitles 10 people to participate in this experience. The voucher is transferable, which means that anyone can use it. The voucher remains valid for bookings for 12 months from date of purchase. Please contact the operator using the details which will be printed on your voucher to arrange a date for your event.

Booking your event
We recommend that you purchase your voucher and make a booking for your event at least one month prior to your chosen date. This is particularly important for weekend events.

A Typical Paintballing Experience
Players should wear old, comfortable clothing and may also want to bring a change of clothes for the conclusion of the game. We strongly recommend boots with ankle support and deep tread/rubber soles – it can be muddy, wet and slippery in the woodlands. Some players may choose to wear wellies if it is muddy during the winter months but it is up to each individual to decide if they want to choose a waterproof option rather than the safety of ankle support. Paintball gloves may be available to buy at the centre, or you can bring your own. You may also want to bring some money for purchasing additional paintballs (venues generally accept cash and credit/debit cards – please note fees may apply to the use of credit and debit cards).

Validity / Cancellation
The voucher will remain valid as long as an attempt to book the experience has been made within the 12 month period. You must contact the operator using the details printed on your voucher, to arrange a date for your event prior to the end of the 12 month period expiring.
This Rating (2
*

/ 5

*

)

'Website and purchase process' by anonymous on 31/03/15.

"I kept being told to enter a valid address line 1 before I could pay by card - but there WAS a valid address line 1. I only managed to complete the transaction when my daughter - as a last resort - inserted a comma after the line 1 address. This address was inserted automatically, so there if a comma is required to proceed, this ought to have also been inserted automatically. I would have aborted the purchase and gone elsewhere if my daughter hand't just happened to be at home... "