Buy Now
Text Me
Check Availability
How it works
Price £230.00
Why not call us and haggle?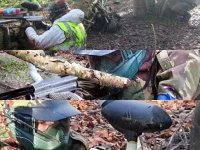 #34275,
Extreme Paintballing - half day for 4
We can guarantee you will be tested to the max in the field - large woodland to creep, crawl, run, shout, dive, duck and have a thoroughly amazing time. Valid for 4 participants.. This experience is for 4 participants, lasting approx 4 hours. Valid for 12 months from date of purchase.
What's included
Minimum age 16.

The paint is structured into seven games with paint remaining being carried over to the next game. Extra paintballs can be purchased.
Games include:-
Flags: The first game of the day is capture the other team's flag and take it back to your base camp, if your flag has been taken, you must recapture your flag and take it back to your base camp. There must be two flags in your base camp to win.

Temple: An alien has crash landed in the jungle and has been taken in by the jungle warriors with the alien being worshiped in their temple. The Special Forces mission is to take the Alien from the Temple and escape. Watch out for those sneaky jungle warriors as they will fight to the bitter end.

Siege: The Special Forces have taken cover in an abandoned military complex. The Special Forces have to defend themselves and await pick up by helicopter. Meanwhile the jungle warriors will be attacking the complex in order to eliminate them.

Flag up or down: One flag pole in the centre of the village at half mast with one team to pull it down and the other team to pull it up and at the end of the game, the team that has the flag up or down accordingly, wins.

Jungle Field: The object of the game is to Attack, defend or both. The area is very over grown, boggy, untouched woodland in order to simulate a jungle. The field of play is very challenging as it requires team work and observation skills. The mission is to shoot the other team's disc first which is situated in the enemy's base camp.

Air drop: - A military plane has flown over the woodlands and executed an ammo drop in no man's land. Both teams have been sent out into no man's land to retrieve the ammo supplies for their teams. The team with all the ammo crates in their base.
Special Conditions
Minimum age 16.
Includes full kit; 600 paintballs.
Voucher
Each voucher entitles 4 people to participate in this experience. The voucher is transferable, which means that anyone can use it. The voucher remains valid for bookings for 12 months from date of purchase. Please contact the operator using the details which will be printed on your voucher to arrange a date for your event.

Booking your event
We recommend that you purchase your voucher and make a booking for your event at least one month prior to your chosen date. This is particularly important for weekend events.

A Typical Paintballing Experience
Players should wear old, comfortable clothing and may also want to bring a change of clothes for the conclusion of the game. We strongly recommend boots with ankle support and deep tread/rubber soles – it can be muddy, wet and slippery in the woodlands. Some players may choose to wear wellies if it is muddy during the winter months but it is up to each individual to decide if they want to choose a waterproof option rather than the safety of ankle support. Paintball gloves may be available to buy at the centre, or you can bring your own. You may also want to bring some money for purchasing additional paintballs (venues generally accept cash and credit/debit cards – please note fees may apply to the use of credit and debit cards).

Validity / Cancellation
The voucher will remain valid as long as an attempt to book the experience has been made within the 12 month period. You must contact the operator using the details printed on your voucher, to arrange a date for your event prior to the end of the 12 month period expiring.
This Rating (5
*

/ 5

*

)

'Website and purchase process' by anonymous on 01/09/17.

"Excellent,site very easy to use. Used chat facility and quickly got answer to my query. Looking forward to flight experience"