Buy Now
Text Me
Check Availability
How it works
Price £105.00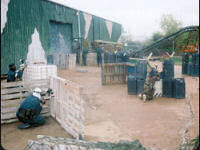 #33126,
Teenage Paintballing experience for 4 - Midlands
Junior paintballing experience for you and 3 friends. Suitable for 14-18 year-olds. You will be playing a variety of indoor and outdoor games during the session. Includes 400 paintballs per person.. This experience is for 4 participants, lasting approx 3 hours. Valid for 12 months from date of purchase.
What's included
Junior Paintballing packages include:
Outdoor and indoor Paintball games.
All the Paintball equipment needed.
Junior players play against their own age group.
Up to 8 Paint ball games.
Full supervision from experienced adult Paintball marshals

Special Conditions
Minimum age 14.
Maximum age 18.
Session starts at 9:00am or 1:30pm.
Available 7 days a week.
For safety reasons only Ppaintballs purchased on site can be used.
Voucher
Each voucher entitles 4 people to participate in this experience. The voucher is transferable, which means that anyone can use it. The voucher remains valid for bookings for 12 months from date of purchase. Please contact the operator using the details which will be printed on your voucher to arrange a date for your event.

Booking your event
We recommend that you purchase your voucher and make a booking for your event at least one month prior to your chosen date. This is particularly important for weekend events.

A Typical Paintballing Experience
Players should wear old, comfortable clothing and may also want to bring a change of clothes for the conclusion of the game. We strongly recommend boots with ankle support and deep tread/rubber soles – it can be muddy, wet and slippery in the woodlands. Some players may choose to wear wellies if it is muddy during the winter months but it is up to each individual to decide if they want to choose a waterproof option rather than the safety of ankle support. Paintball gloves may be available to buy at the centre, or you can bring your own. You may also want to bring some money for purchasing additional paintballs (venues generally accept cash and credit/debit cards – please note fees may apply to the use of credit and debit cards).

Validity / Cancellation
The voucher will remain valid as long as an attempt to book the experience has been made within the 12 month period. You must contact the operator using the details printed on your voucher, to arrange a date for your event prior to the end of the 12 month period expiring.
This Rating (4
*

/ 5

*

)

'Website and purchase process' by anonymous on 06/06/16.

"Very easy site to use. I had online chat to make sure it was what I was looking for the rest was a breeze. Thanks"